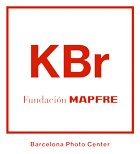 The aim of ART PHOTO BARCELONA is to publicize and strengthen the work of photographers and the agents who attract the public from galleries, publishing houses, exhibition halls, institutions and independent curators.
Through its "Associated Venues", Art Photo Bcn splashes the city with diverse exhibitions and activities that link and give continuity to the authors who have participated in previous editions of the event, from the beginning of September until the end of October 2020 in this seventh edition.
The Festival @ArtPhotoBcn takes the pieces of international photographers closer to the public. From KBr, we join the family workshop "Diminutos MAPFRE".