KBr GuestsDialogues and conferences about the exhibitions.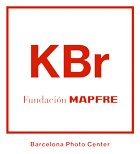 Each of the four conferences presented within this first installment of
KBr Guests
will focus on one of the exhibitions programmed for the first half of this year. Thyago Nogueira, curator of
Claudia Andujar,
and Joan Boadas and David Iglésias, curators of
The Captive Gaze,
will discuss their shows respectively; Drew Sawyer, curator of the extensive anthology on
Garry Winogrand
that will open in June, will host a discussion with young photographers. Finally, Nicholas Nixon, whose exhibition
The Brown Sisters
will also be part of the summer program, will maintain a discussion with Laura Terré.
Granting a voice to a series of personalities linked directly to Claudia Andujar, The Captive Gaze, Garry Winogrand and The Brown Sisters will provide a deeper understanding of the authors, their work, their biographies and will allow viewers to understand certain approaches taken in the production of the exhibitions and the dialogues these shows generate among contemporary creators and trends.
The sessions will be held exclusively online on May 4th and 11th and on June 8th and 15th.
Dates
May 4th and 11th
June 8th and 15th