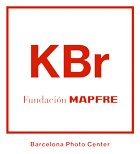 KBr is not just an exhibition venue. Our aim is also to offer a permanent educational program focused more on training future generations in the understanding of photographic language and its artistic dimension, than explaining a specific exhibition.
In addition, we will schedule gatherings and conferences with photographers, curators and experts in the field of photography who will share their experiences and knowledge.
We open the doors of KBr to you, your family, and all those interested in delving into the world of photography, in learning how to to look and feel. Take part in our activities.