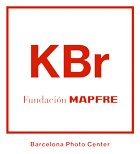 The LOOP Festival coordinates more than 200 entities and agents of the city that year after year are involved in its celebration by programming and curating video-art events throughout the city in the form of exhibitions, projections, performances, conferences and round tables.
This year, KBr Fundación MAPFRE will also be present with a video installation by Irish photographer Eamonn Doyle.
It has over  70 participating venues , among which are the KBr Fundación MAPFRE, the MACBA, CaixaForum, Fundació Joan Miró, Fundació Tàpies, Arts Santa Monica, Museu Picasso, etc.
LOOP is a platform dedicated to the study and promotion of the moving image that is held annually by LOOP Barcelona, a special meeting point that is divided into three main sections: LOOP fair, LOOP festival and LOOP studies.
Within the Festival we are presenting Made in Dublin by Eammon Doyle.
Conceived as a kind of animated video-myriorama that evolves in a spiral, Made In Dublin is a work of nine constantly changing screens over a moving city, cinema format constructed as a series of sequences that unfold in parallel through the movement of people trapped in time and space. That space is Dublin. Narratives constructed around the collaboration of Eamonn Doyle and Nial Sweeney, with a quadraphonic composition by David Donhoe that includes the voice of Kevin Barry.