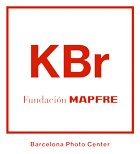 Librería KBr by Juan Naranjo is a bookshop specializing in photography, that complex means with a changing identity, which has played such a fundamental role in the development of the visual culture of our time and in the configuration of modern society as a whole. Due to its ontological characteristics,  photography has been, since its beginnings, one of the means with the greatest capacity for social penetration: an almost omnipresent means in our daily activity, in which its social functions are entwined with artistic considerations and distinctions.
The current absence of physical spaces in Barcelona to find a comprehensive and careful selection of photography books, has led us to create this initiative, keeping the bookstore spirit alive while prioritizing quality over quantity.
The selection of the titles on sale will take into account both their artistic value and their content.  We will start from a current broad conception of the way of understanding editorial productions related to photography, creating a dynamic space for reflection. Book signings, presentations and discussions will take place in the bookstore. Also on a regular basis, themed newsletters and catalogs will be disseminated and sent to those interested.
In the bookshop you will find the  KBr and Fundación MAPFRE publications, as well as a selection of books and exhibition catalogs made by the most important museums, institutions and national and international publishers. We will also have a section for portfolios, special editions, signed books and discontinued titles.
We will also have a small collection of objects made by contemporary designers, whose works of art will be showcased in the bookstore. To open the venue, a selection of objects designed by Martí Guixé will be on show, and Eduard Escoffet will create a visual poem, of which a limited edition of 30 copies and a postcard will be made.
Juan Naranjo combines research and exhibition curatorship. His research – reflected in numerous exhibitions and publications – has focused on two main lines of work: the uses and functions of photography and the debates that since the 19th century have introduced new technologies into the artistic sphere.
Among other activities and occupations, he has been an adviser to the FotoGGrafia collection of the Gustavo Gili publishing house, during the second stage, 2001-2009, and a member of the advisory committee of the Photography Department of the Museu Nacional d'Art de Catalunya, Barcelona, from its creation until 2012.
He currently participates in the Master of Photography at the Universitat Politècnica de València, where he teaches the course Photography and avant-garde and writes about the art market in the magazine El Temps de les Arts, activities that he combines with managing the Juan Naranjo Galería de Arte & Documents, Barcelona.